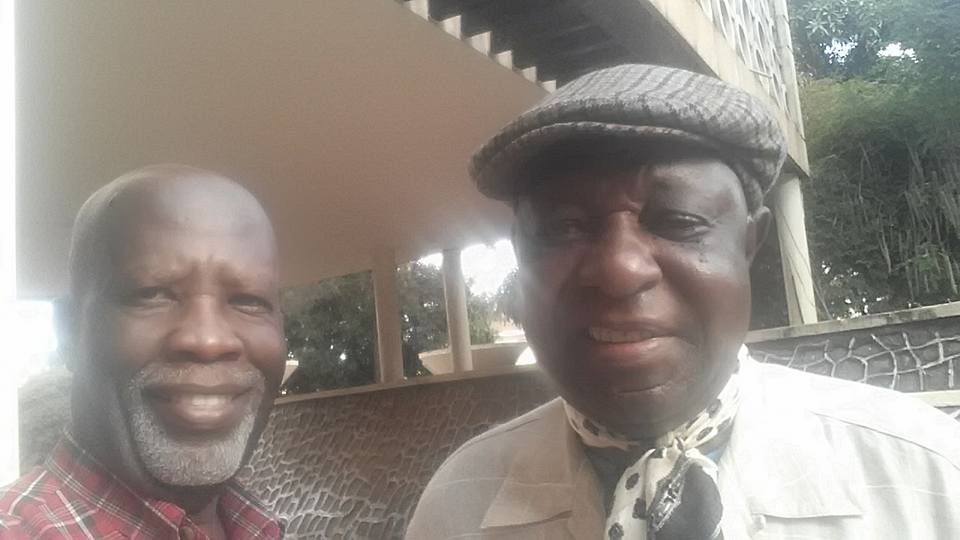 In 1994 I had the privilege and honour to organise a music concert: MUSIC BACK TO SIXTIES, dubbed The Hot Show, which featured 25 Uganda's legendary musicians and dancers including among others: Swisseman Ngoy, Fred Masagazi, Freda Sonko, Christopher Sebadduka, Margaret Nakibuuka, Christopher Kato (the dance wizard) and his youthful dancing partner Night Flower Namusisi, Andrew Kyambadde, Kamparo, Hadijah Namale, Mary Nattima, Louise Bagenda, Simon Berunga etc.
The show was sponsored by Kampala Bottlers and hosted by the Sheraton Kampala Hotel. Kampala Bottlers was owned by Amos Agaba, now deceased, a true music promoter who owned Waka Waka Band led by Amigo Wawawa aka Wakusimbi ow'Effumbe. He put it at our disposal for the entire duration of the month long rigorous rehearsals and show.
During our interview for the show catalogue, Mzee Swisseman told me he was born in 1939 in then Congo Leopoldville later renamed Zaire. He was married and had children one of them Ola went on to become the first Miss Uganda, when the beauty pageant was revived in the 1990s.
He started dancing in 1954, and the first band he joined was Mario Jazz based in the then Zaire Republic now renamed Democratic Republic of Congo. As a vocalist his first song was "Janine".
Asked what his favourite song was, Swisseman named two, "Omusujja" sung by carol Nakimera of Super Rocket Band of, which he was the manager and "Muziki Ya Mboka" by the Vipers Band led by Raphael Kawumba.
Coincidentally the two were equally some of my favourite songs.
His favourite vocalist and dancer was Arlus Mabele, while the musician he admired most was Luambo Luanzo Makiadi aka Franco of the "Mario" fame by OK Jazz Band.
As we wound up our interview, Swisseman had this message for his fellow musicians and fans:
"Unite and persevere you will prosper"
He will be remembered for introducing and popularising Congolese aka Zairean contemporary dances in Kampala in the 1960s and 1970s at New Life Night Club aka Ewa Kamulu e Mengo, where Sir Apollo Kagwa Primary School is located today.
New Life Night Club was later renamed Economic Night Club after the expulsion of Asians in 1972, who since the arrival of the British colonialists had dominated Uganda's commerce and trade.
Among the dances he introduced, while in the Vipers Band then was: Soukous, Kiri Kiri, Toyota, Yeke Yeke, Apollo 11, Embalasasa etc.
Although Suisseman was a vocalist and dancer it was his dancing skills that earned him a lot of fame and endeared him to teenagers especially at the height of teenagers' dances era in 1968,69,70,71,72, 73. The Scotch whisky brand VAT 69, was cheekily interpreted as Very Active Teenager in 1969. The daytime dances subsequently banned by government, mbu for spoiling youngsters.
Unfortunately the folly of it was that, youngsters ended up sneaking into night clubs after bribing gatekeepers with favours both in cash and kind. They weren't only spoilt but morally wasted and we are still paying the price todate.
UTV the then only television station in Uganda (owned and run by government) did a lot to promote Suisseman. They would invite him to perform in their studios, and air the shows every weekend. He was a sharp dresser, flamboyant and instantly recognisable because of his height and dress style.
Most of the time he would be seen in bell bottom trousers, slim-fit silky shirts with broad collars, scarfs, sombreros and stiletto shoes, waving to cheering and adoring crowds on Kampala road especially on Saturday mornings. He was fashion icon and trendsetter.
For trendy teenagers Kampala road was the place to be every Saturday morning. They woukd walk the entire street between Bombo road and Jinja road before boarding UTC buses in the afternoon and head straight to White Nile in Katwe and New Life in Mengo to get down on it.
Many teenagers after watching him perform on UTV with agility and fluidity were tempted to go to where he performed with his band, to get a real-life experience. Especially for those in Kampala and environs.
Unfortunately the under 18s by law were not permitted to enter night clubs at night. Those upcountry settled for the silver screen.
Many a teenager emulated his dancing and dress styles, including yours truly. I would later introduce the same in Nairobi in 1971, where we performed with the late Henry Dede Majoro, the legendary talented instrumentalist. Dede was the Kawumba and yours truly the Suisseman of some sorts. From then on Congolese/Zairois music took root and was later to become increasingly popular and by the end of the 1979, it had become the music of choice. Thanks to resident Congolese/Zairois bands: Le Noir, Le Kenoir, Baba Gastro, Les Wanyika, Mangelepa, Virunga and occasional visits by Congolese music Maestros such as Luambo Luanzo Makiadi aka Franco, Tabuley, Sam Manguana etc.
The situation was redeemed when teenagers' dances were introduced. They would start at 2 pm pm and end at 7 pm.
New Life Club was the place to be every weekend in the afternoon for teenagers and at night for the grown-ups including some rebellious teenagers.
Mzee Suisseman Ngoy's name is permanently etched in the history of Uganda's music and dance.
May the Almighty God grant the family, fellow artistes and friends the grace to deal with the loss.
May Suisseman's legacy be the source of inspiration for the betterment of the creative industry at a time when the industry is encountering serious challenges.
His message of 1994 remains relevant to date: "Unite and persevere you will prosper"
Amen.
Over to you!