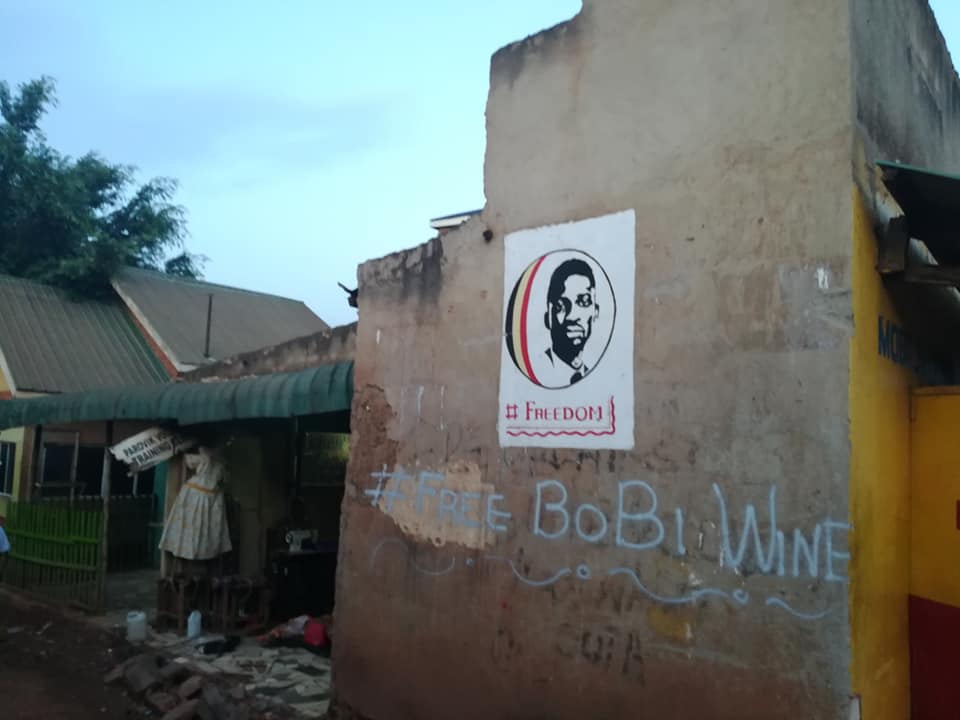 This evening I went to the republic in Kamwokya to check on my grand niece Ruksy who has lost her beloved mother-in-law, which necessitated her husband Sachin to rush to India to arrange for her cremation as per the Hindu custom.
On my way back, Ruksy showed me the famed Fire Base studios. Although I have on so many occasions passed by that place and I was aware through the media that Fire Base the headquarters of the ghetto republic was located somewhere around Kamwokya.
In other words this is the place where HE Bobi Wine does what he does best; compose, sing, record and produce music that has made him a factor not only in social commentary but also an earthmoving political actor of a global stature.
The walls that probably which appear to have not been painted for a while, are host to some imposing graphically drawn portraits of HE Bobi Wine aka Hon Robert Kyagulanyi, the member of parliament of Kyaddondo East. Below the portraits are captions demanding his release.
It is here where the studios that birthed the now famous Kyarenga hit are situated. KYARENGA is a song that leaves nobody unmoved regardless of one's political affiliation, social standing, economic status or even religious beliefs.
I decided to walk to Bukoto where I live as I reflected on a place that is increasingly becoming of historic importance as far as Uganda's politics is concerned.
Memories of 1972 came back rushing to my mind as I walked. It was around Kamwokya that my colleagues and I had spent our last evening out in Kampala before exiting to various units we had been hastily transferred to. It was an order from the then Commander in Chief to the then Chief Medical Officer Col Dr Gideon Bogera, to disband a unit that had been recruited, undergone basic military training and was waiting to be sent for medical training abroad. 
It was at a popular bar called Africana, where we revelled and that last night in Kampala, I still recall to date the number that was played over and over again on the juke box. 'Jamaica Farewell' by Harry Belafonte. The only difference was in Belafonte's song he was leaving on a jet plane while we were to leave on buses.
I was to lead the team that was posted to the 2nd Battalion aka Gonda based in Moroto.
In 2004 while visiting Jamaica to attend my cousin's wedding in Negril, I made it a point to visit Bob Marley's house, which is now a museum. As we approached Kingston I started singing lyrics in 'Jamaica Farewell' : I am leaving on a jet plane…
Over to you